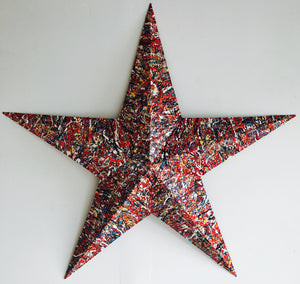 Large Multi Color Steel Patriotic Star
Regular price $825.00 Sale
ACCEPTING DEPOSITS. Each star that we create is one of a kind. These stars are fine works of patriotic art that are painted on steel with an abstract expressionism technique. The large multi color star measures 48" x 48" x 5.75" and weighs 12lbs. 22 GA steel. Mount using wood screws or drywall anchors. Over 25 hours of painting goes into each star before it is packaged and shipped.
You can add a clearcoat protective layer to your star for outdoor use. The extra cost is $50.00.
Due to the intense artistic process of hand making each star, orders may be subject to a 3-5 day lead time from the invoice date.
If you need your star earlier for a special event, we can expedite your star for a fee. Contact us prior to ordering. Thank you.